Flash Optimizer for Mac
Compress SWF video and optimize Flash file on your Mac.
Flash Optimizer also available on
Windows
With Flash Optimizer for Mac you can
SWF Optimizer for Mac has revolutionary compression methods that allow to optimize SWF files to save up to 70% of their size.
Analyze SWF files
You can preview and analyze compression settings before optimizing the movie. 2-player window with zoom in/out option will clearly show you the differences between the original and optimized-to-be files. User-friendly and customizable interface will help you get around Flash Optimizer in seconds.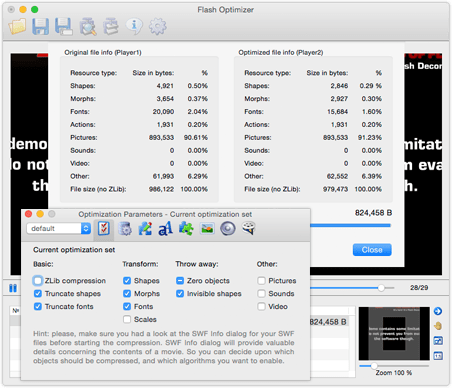 Optimization settings are easily customizable
Flash Optimizer for Mac OS offers total control over each optimization parameter. You can choose one of the default optimization settings and see whether it suits your needs. However, you can customize these settings manually to reach the most effective optimization ratio. You can also save the settings you like best for future use.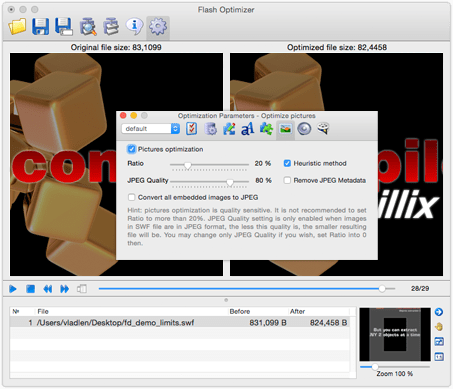 Optimize Flash without affecting its quality
With the help of Flash Optimizer any SWF file can be easily compressed without quality loss. The fact is that Flash Optimizer uses top-notch algorithms of vectors, shapes, morphing, Z-buffer, fonts and other optimizations to make SWF files load faster while preserving their quality. Moreover, with our tool you can tune up the compression settings to optimize the definite part of your SWF movie, or the whole file itself.
All relevant Flash versions, including Flash CS6, as well as ActionScript 2 and 3 are fully supported.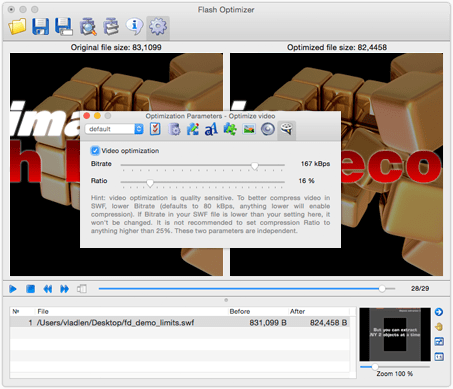 Let's get started
Flash Optimizer for Mac
ALSO AVAILABLE
Flash Optimizer for Windows

Compress Flash and reduce the size of SWF files on Windows computer.